6 Day Adelaide and Flinders Ranges Outback Adventure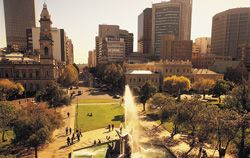 6 Day Adelaide and Flinders Ranges Outback Adventure
Package Details:
2 nights Adelaide; The Mayfair Adelaide, Queen Room
3 nights/2 days Flinders Ranges Outback tour including:
2 nights accommodation at Rawnsley Park Station including daily continental breakfast (Standard or Superior)
Morning pick-up and evening set-down at selected Adelaide City hotels
Morning and/or
...

Since 1985, Qantas Vacations has been renowned as the expert tour operator specializing in Australian vacations. Our agency consists of seasoned travelers and destination specialists who take pride in crafting amazing vacations in Australia, New Zealand and South Pacific Islands.
Many of our team have also either lived or traveled extensively to these parts of the world and have local knowledge that will help make planning your trip hassle free. There is nothing like speaking to a rea
...
Tour operating in April, May, June, August and November